About Natural Fancy Violet Diamonds
Natural violet diamonds are extremely rare and belong to the purple diamond family.

0.18 ct Fancy Dark Violet diamond and a 0.13 ct Fancy Intense Violet diamond

The color appears as a combination of blue diamonds and purple diamonds, although it is a color in its own right, and comes in different hues and intensity. Many of the world's violet diamonds originate from the Argyle Mine in Kimberley, Western Australia.
Left to Right, 1st row: Fancy Violet Gray, Fancy Dark Violetish Gray, Fancy Deep Violetish Gray, Fancy Dark Violet Grey
Left to Right, 2nd row: Fancy Gray Violet, Fancy Grayish Violet, Fancy Intense Violet, Fancy Deep Violet, Fancy Deep Gray Violet, Fancy Deep Grayish Violet, Fancy Dark Gray Violet
Left to Right, 3rd row: Fancy Deep Violetish Blue

Violets With a Modifying Color
Pure violet with no secondary hue almost never occurs in nature, and when it does, these diamonds appear only in small sizes. Even though this is very rare, it is not considered as rare as fancy red diamonds and fancy blue diamonds. The violet colored diamonds found in nature usually appear with gray or blue as a secondary hue, and are also very beautiful although not always as expensive.
0.33 ct Fancy Gray Violet diamond, 0.33 ct Fancy Gray Violet diamond, and a 0.33 ct Fancy Gray Violet diamond

Violet as a Modifying Color
When the color appears as a modifying color in a secondary hue, it can be either Violet or Violetish (i.e. Fancy Violetish Blue or Fancy Dark Violet Grey), depending on how the violet modifying color appears in the diamond. Their color is related to Hydrogen, but the exact mechanism is as yet unknown. They are often very small and diamonds greater than 1 carat are extremely rare.
0.56 ct Fancy Dark Violetish Gray hear shaped diamond, 0.25 ct Fancy Violet Gray diamond heart shaped diamond, and a 0.17 carat Fancy Deep Violetish Blue Argyle diamond
The intensity levels that fancy violet diamonds appear in are Fancy, Fancy Dark and Fancy Deep, and very few in the Intense classification.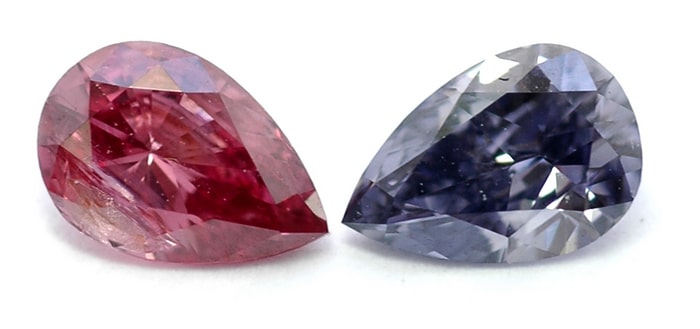 A Fancy Deep Pink pear shaped diamond and a Fancy Violet pear shaped diamond
Violet diamonds come from the Argyle mine in Australia, which is the world's biggest pink diamond and purple diamond mine. As of yet, there are no famous violet diamonds.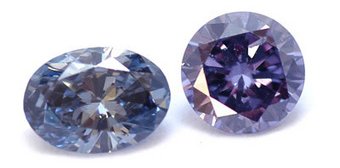 Fancy Violet and Fancy Blue diamonds