The Most Expensive Ruby In The World
Natural, untreated, and high quality rubies, especially large ones, are extremely rare and can reach stellar prices. Yes, rubies can cost a fortune; so much so that one of the the most expensive colored gemstones ever sold at auction until this past May was a ruby!
This is of course the Sunrise Ruby. At 25.59 carats, the Sunrise Ruby is a Mogok Burmese cushion-shaped ruby set upon a Cartier setting alongside two shield-shaped diamonds that weigh 2.47 and 2.70 carats.
The record has since been surpassed by the Blue Oppenheimer, which realized a record $30,335,698 price tag with its staggering $57.5 million sale price. But rubies still garnered quite a large appreciation among the most expensive luxury stones.
The Sale
In May of 2015, Sotheby's Geneva hosted a sale that offered a one-of-a-kind Pigeon Blood Mogok Burmese ruby that managed to break all records when it sold for over $30 million and for over $1 million a carat. The previous titleholder for most expensive ruby was the Graff Ruby, which had sold six months earlier in November 2014 for $8,600,410. Since the ruby was only 8.62 carats, its sale price was only $2,200 shy of the new per-carat record. This just shows us that top quality rubies continue to rise in price and that they are still very much in high demand. Furthermore, six of the ten most expensive rubies that exist today were sold in the past two and a half years.
Additional Expensive Rubies
The sultry red stone has been a favorite among humankind since the beginning of time. Perhaps that is why individuals are willing to shell out millions upon millions of dollars in order to own large, quality rubies such as the 12.46-carat Burmese ruby and diamond ring; the 8.99-carat Mogog Burmese ruby and diamond Harry Winston ring; the 30.20-carat Burmese ruby and diamond ring; The Regal Ruby; The Queen of Burma; The Patino Ruby; the 29.62 Mogok Burmese ruby and diamond Cartier ring; and the 10.10-carat Mogok Burmese ruby and diamond Cartier brooch. The "cheapest" of these items, the 12.46-carat Burmese ruby and diamond ring, sold for "just" $3,721,415 while the most expensive piece, the 10.10-carat Mogok Burmese ruby and diamond Cartier brooch, brought in $8,428,127.
Price Factors
There are several factors that can contribute to a ruby's high price. One is of course the size, and the second is obviously the unbelievable color of the stone. Add the fact that the stone is natural, untouched, and displays impressive quality and we're already talking bundles and bundles of cash. Then you've got the origin factor. Rubies hailing from the Mogok deposit in Burma tend to fetch the highest sums due to their vivid and saturated red color.
Those born in July are lucky to have the stunning ruby as their birthstone but are at an equal disadvantage of having to cope with such high prices. Nevertheless, not all rubies must be of the proportions similar to the stones mentioned in this list, nor do they have to be from such reputable and high-demand locations such as Mogok. With a firm budget and a set of priorities in hand, each individual can find the ruby that best suits his or her needs.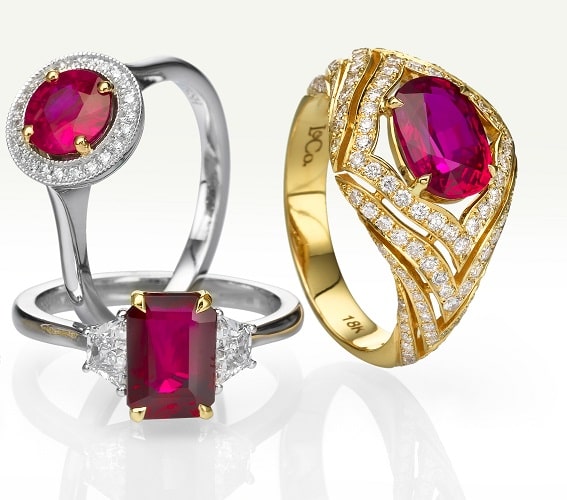 Ruby Jewelry