Every girl dreams about the perfect engagement and most guys do as well, only they just won't admit to it. Where is the best place to pop the question, what to wear, the words to say, and most importantly what to present her with!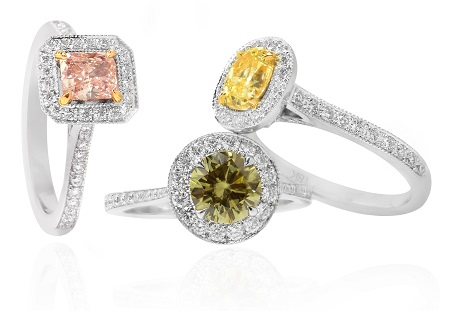 Various Fancy Color Engagement Rings

For the longest time, other than royalty or the famous, people only owned colorless stones. However, over the past few years fancy colored diamonds have been gaining a lot of popularity. As symbols of the earth's rarest treasures, fancy colors are beginning to dominate the engagement market. People want their soon-to-be wives to know just how special and unique they are. Sending the message with diamonds so rare and beautiful such as a Fancy Vivid Yellow or a Fancy Purplish Pink stone is sure to make her know what she means to you.

One of the stages people reach rather quickly is that finding the perfect diamond ring isn't as easy as one might think. Since we are in the business, we decided to put together a few tips towards helping you find the perfect ring with a stone to match.
There are a few points which are a must when it comes to finding what you are looking for, and keeping your expenses to a minimum.
It's a Natural Diamond

Diamonds are only forever if they are real. Make sure that the stones you are looking at are NATURAL Fancy Colored diamonds. Artificially colored stones will potentially lose their color and reduce in quality over time. A natural colored diamond on the other hand, will be just as bright and beautiful 100 years from the day it was originally polished. If it's not natural, it's not for you!


18.50 ct Natural Fancy Intense Yellow Cushion Cut Radiant Diamond


As a result of their everlasting beauty, some companies stand behind their products and offer a warranty on their goods. Read more about our Natural Diamond Warranty.


Dollars and Cents

Sit down and make a budget before you start looking around. Know just how far you can stretch your wallet or before you know it you will find yourself having to give up on the most gorgeous stones after already having fallen in love with it.


Fancy Intense Blue and Fancy Intense Pink Emerald Cut Diamonds


Keep in mind that many companies are happy to work with their potential clients with regards to the finances. If what you are looking for is slightly above your budget, contact our company's customer support and speak to them about the issue.


Color is the King

When it comes to fancy colored diamonds, the color of the stone is by far the most important characteristic of the 4Cs. Since no two stones are exactly alike, decide first the general direction you want to take. You will see that many different color combinations and color intensities drastically change the appearance of the stone. Choose the color you feel suits you best and start your search there. The goal is to get the best color (according to your personal taste) for your money.




Collection of Fancy Color Diamonds

Eye Clean

Understand that you, your friends, and your family are not strolling around with a magnification loupe. It is better and far more cost effective to purchase a stone that appears "clean" to the naked eye. Getting a stone with an excellent clarity grade such as an IF or VVS1 isn't necessarily worth the price you will be asked to pay.



10X Magnification Diamond Loupe



Diamonds with an IF clarity grade are obviously best, but if that is what you are looking for be sure you don't mind paying a higher price for the stones. Keep in mind that stones with a VS1 clarity grade and up are also eye clean and more affordable. A VS2 graded stone is usually eye clean and an SI1 and even SI2 clarity can sometimes be found eye clean as well. There is no reason not to look through a number of stones until you find the perfect one.

The appearance of the diamond depends a lot on the location of the imperfections and the type of inclusions found. So be true to yourself and get the best quality stone you can for your money.



Carat Size

Think about what sized diamond you are looking for. You won't have to make the final decision up front, but when it comes time to start looking it helps to minimize the large selection of stones that will be set before you. While keeping your finances in mind, decide whether you would prefer something between 1.00 – 1.50 or 2.50 – 3.00 and it will help save you both time and aggravation down the line.

Due to the rarity of some of the fancy colors, it is often harder to find larger sized stones. Also, depending on which color you prefer, a larger size can be a lot more expensive. Consider speaking with a professional about the size that fits you best. Even though bigger sounds better, if you are a petite girl with thin fingers a very large diamond might look somewhat disproportional.



5.91 Fancy Intense Yellow Emerald Cut Diamond Ring with 0.90 ct Baguette Side Stones

Diamond Certification

Request to see a diamond certificate when looking at the stones. This will help you confirm the validity of the diamond quality. Most diamond certificates include detailed information about the stones, such as the shape, measurements, weight, color, and more.

To ensure you are making the right choice, consider it a MUST that the stone is certified, and better that it be certified by GIA.



A GIA Certificate

Go to the Professionals

The vast majority of diamond dealers don't understand fancy colors. Everything from purchasing, trading, and selling down to the basic 4Cs of diamond quality is different than with colorless stones. Any company with experience must have gone through a learning curve that most often included mistakes here and there in order to get where they are today.

Whether you are looking online or walking into jewelry shops in your area, look for a company that specializes in fancy colors and knows all the facts.



Professional Jewelry Setting and Polishing


Do a little research and check out the company you are dealing with. If they are a business in good standing, they will most likely be members of various diamond associations. Also, see what others have to say about them online.


Speak to the same Professionals about the Ring

Designing a fancy colored diamond piece of jewelry is quite different from setting a white stone. As opposed to selecting any ring that looks attractive, crafting the setting of a fancy diamond must be done differently for each individual diamond due to its shape, size, make, build, and the color combinations it can contain.

Jewelry designers will often be able to suggest the shank and setting style that goes best with the diamonds you have. Therefore, get on the phone, talk to the designers, and get to know them. Explain what type of setting most interest you and work together with them to create yourself a dream come true!

Love it!

Selecting the perfect stone and designing the perfect ring is not an easy feat. Don't make the decision overnight unless you find a deal you just can't pass up. Rather, take your time and make sure you are getting the diamond ring you have always dreamed of!


Falling in Love - A Fancy Purplish Pink Diamond Heart Shaped Ring


If you haven't decided on the perfect ring, have a look through some jewelry catalogues to help narrow down your decision. You might not find exactly what you were hoping for but it will help you clairfy the idea you have in your head.


Don't Stress

Purchasing a diamond ring is a happy occasion. Selecting the perfect ring should be done with care. Take your time, be relaxed, and keep cool!