Top Engagement Rings - Top 10 Trends
An engagement ring may be an extremely traditional symbol, but the styles, designs, shapes, and colors for these rings are constantly changing in terms of trends. Right now there is a wide range of trendy engagement rings to choose from, with something suitable for every taste and budget. From emerald engagement rings to Fancy Color Diamonds to flower shapes and twisted bands, here are ten of the top engagement ring trends we are seeing today.
1. Fancy Color Diamond Engagement Rings
Colorless diamonds have been the traditional stone selected for engagement rings for some time. Many women have set it in their heart that they will wear a diamond on their finger when the time comes. However, the option of standing somewhat above the crowd while still remaining along the lines of the same dreams we all grew up with has become quite popular over the past few years. Many have begun incorporating colored diamonds into their jewelry, and there are good reasons why. Fancy Color Diamonds are just as much diamonds as colorless diamonds, but they are a category of their own. This is because there is such a vast selection of colors, sizes, and shapes, and because they give off a completely different feeling. Color diamonds are unique, rare, and quite flavorful. You can choose a color based on the personality you are shopping for along with personal taste and complexion.
A Fancy Yellow, a Fancy Deep Yellowish Orange Diamond, and a Fancy Yellow round diamond Engagement Ring

2. Emeralds

We have touched upon the idea of including color in an engagement ring by incorporating Fancy Color Diamonds, in place of the traditional colorless stone. However, Emeralds have been attracting a lot of attention lately. For many of us, emeralds bring back flashes of the Emerald City from the unforgettable Wizard of Oz movie, but the enchanting stone holds great esteem, worth, and beauty in reality as well. The emerald trend is one way of achieving color in an engagement ring. Steering away from the traditional colorless diamond, emerald engagement rings come in many styles and can be combined with any stone. The color green is fresh and reminds of us of spring, the time of rebirth. In many cultures, emeralds symbolize healing. Emeralds can be placed as the center stone of an engagement ring or used as side stones to encircle a diamond or any other stone.
Gemstone jewelry-Emeralds, Ruby and Sapphire engagement rings

3. Fancy Shape Diamonds

While the round diamond may be the most popular diamond shape for engagement rings, it certainly is not the only option. There is a whole other world of fancy shape diamonds to choose from. These shapes include emerald, cushion, oval, pear, marquise, as well others. Opting for a fancy shape diamond gives the ring a bit more flavor while remaining within the traditional spectrum.
Many different options of fancy shaped colored diamonds

4. Three-Stone Engagement Rings

Sometimes, more really is more. What's better than a stunning diamond (or other stone) is three stunning diamonds! There are so many choices in terms of the size and shape of the diamonds and they can be mounted on yellow gold, white gold, platinum or a different metal. The three stones together can symbolize the past, what has been until this moment, the present, the unforgettable engagement, and the future, all the wonderful things in store for you that have yet to come.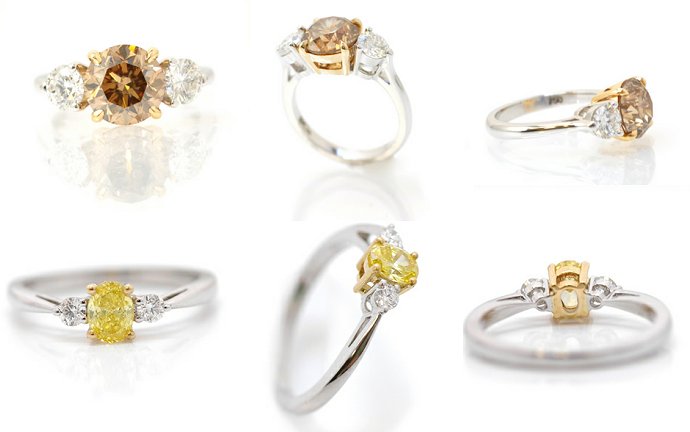 Three-stone Champagne and Fancy Yellow diamond engagment Ring

5. Radiant Diamonds

The radiant shape is just one of the many diamond shapes available. However, this shape happens to be quite popular right now and is also a suitable shape for color diamonds as it is known to display the diamond's color extremely well. The radiant shape is a combination of the traditional round brilliant shape and the less brilliant, but special emerald and asscher shapes. Whether the diamond is a colorless or a color diamond, the radiant shape will add some flare to the engagement ring.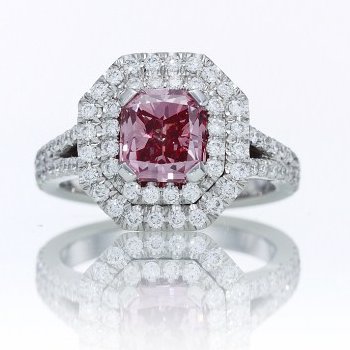 A 1.68-carat, Fancy Vivid Purplish Pink Argyle Tender Diamond Engagement Ring


6. Oval Diamonds

Stepping slightly away from the perhaps overused round diamond, the oval diamond stays within the bounds of tradition but with a gentle twist. Salma Hayek, a famous actress, was seen sporting an oval-shaped diamond ring, which is modern yet traditional all at once.
A 3.30-carat Fancy Orangy Pink Oval Diamond in a 4.17-carat double halo diamond ring

7. Pave Settings

Since diamonds are loved so very much, why not have the entire ring covered with them? This is possible with the pave setting, which gives the appearance of a solid diamond band when in reality the metal is set with many tiny diamonds. Instead of a bare metal band one can enjoy a glittery diamond one.
1.02-Carat Fancy Light Pink Pave Mill Grain Halo Ring

8. Flower Shaped Rings

The floral theme is very in these days, so much so that we see it on engagement rings as well. Flower shaped engagement rings are being seen everywhere, whether created solely from diamonds or a combination of stones. This style is especially suitable for spring, which is right around the corner. A center stone sits in the middle surrounded by smaller stones in the shape of a flower. The result is delightful.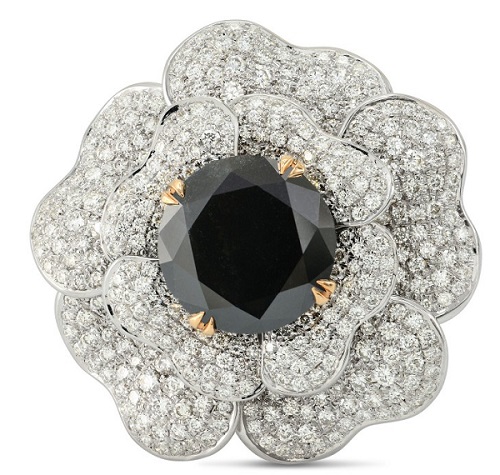 A Fancy Black Diamond Flower Ring

9. Twisted Bands

After the center stone and side stones, comes the band in terms of importance. We have already mentioned how pave setting are trendy at the moment, but yet another twist, literally, is twisted bands! Instead of the bland straight band the ring boasts a twisted look, which may or may not include diamonds.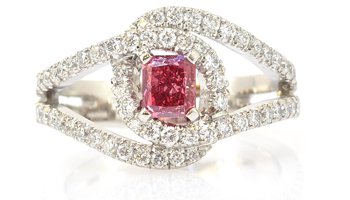 A fabulous 0.52-carat Radiant Fancy Vivid Purplish Pink set in a Platinum Ring Setting in a loop twist design

10. Vintage Rings

Something that has made a huge comeback in many style genres is the vintage theme. This trend is for anyone who appreciates history and who likes intricate detailing along with metal and diamonds. These heirloom style pieces are not for everyone but most definitely offer something unique for those unwilling to succumb to the traditional styles of the masses.
Vintage Engagement Ring

There you have it, ten of the top engagement ring trends that are taking the market by a storm. There is something for everyone in this selection of styles, but if for some reason nothing speaks to you, there are many other styles to choose from, and every one of these trends can be altered a bit to suit you better as well. Remember, as strong as a trend might be, at the end of the day, you have to love it.