The Foolproof Guide To Buying Diamond Earrings
Earrings make an outfit, turning undressed to perfectly dressed in a matter of seconds. The four most common diamond earring shapes are studs, hoops, drops and chandeliers. While they are all gorgeous, there's a great deal of choice involved in finding the perfect style. Here's a quick guide to making sure you choose the best style for you.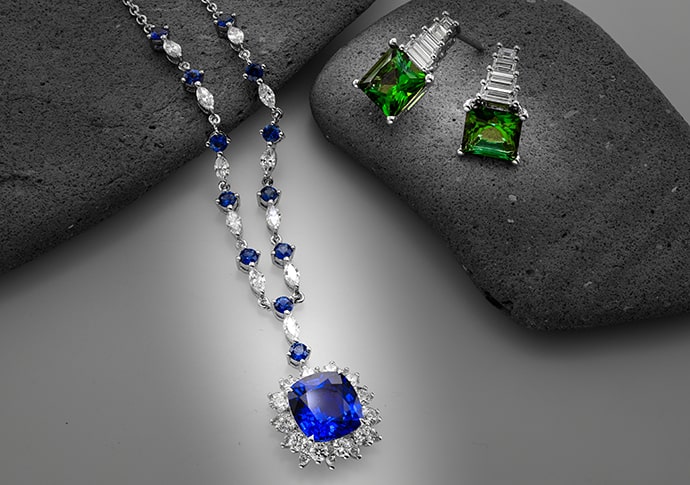 Studs
Forget what we said about not every type of earrings suiting every face. When it comes to this classic earring shape, you can't go wrong. Depending on your budget, they can be sized anywhere from diamond chips (great for a younger girl) up to dinner plate size!
Since studs are fool-proof and suit every type of face, they make the perfect gifts for anyone for birthdays, graduations, engagements and anniversaries.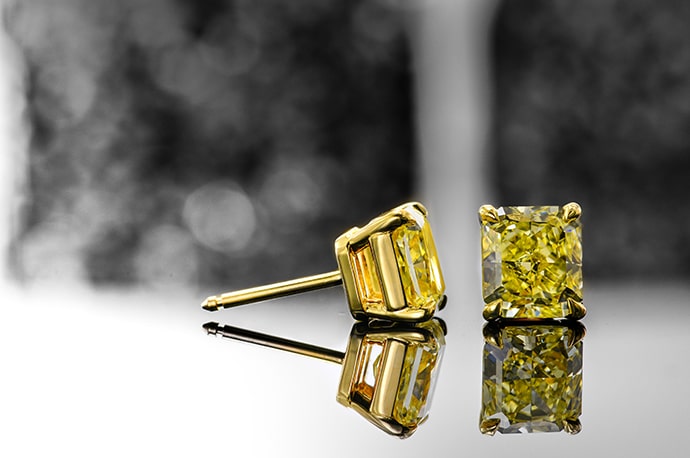 A gorgeous pair of fancy yellow radiant diamond earring studs
Studs are also the perfect place to experiment with color. While fancy colored diamonds are pricier than white diamonds, you could forgo a larger stone to get a pop of color on your ears. There's no need to stick to colored diamonds. Rubies, emeralds and sapphires are all perfect earring choices and will add a great focal point.
Hoops
Diamond hoop earrings can go from tiny and delicate (penny size), to big and brash (baseball size!). It all depends on personal style. The good news is, bigger doesn't necessarily mean more expensive than a simple pair of studs. If you go for hoops that use multiple smaller stones, a pair of larger hoops could work out cheaper than studs, but without losing none of the sparkle and effect. Or, if you are budget conscious, look for a pair that are heavy on the metal with fewer stones, be they be diamonds or gemstone.
Vivid yellow diamond hoop earrings set in yellow gold
Hoop earrings are also an excellent way to play with color. As a somewhat loud jewelry piece, the color allows for a powerful statement.
Drops/Dangles
Drop earrings add some movement with each step you take. Only, here the style you buy should match with the contour of your features. Depending on the shape of your face, you may opt for longer or shorter drops with a bigger or smaller diamond or diamond setting at the end.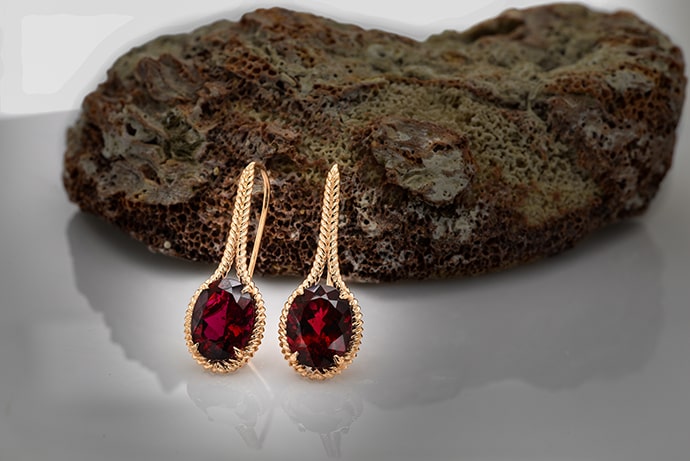 Rose Gold Oval Rubellite Drop Earrings (6.54Ct TW)
Like hoops, drop earrings can match any budget. Larger drops and more heavily studded settings come in at the top end, while smaller more modest settings are best for those with a more limited budget or those who don't like anything heavy on their ears.
Chandeliers
Don't think chandelier earrings are just for the red carpet. While not everyone feels comfortable wearing heavy jewelry in their ears, chandeliers are perfect for making a big, bold statement. Like hoops or drops, chandeliers give a lot of scope for personalization. You can go all out and emphasize the stones or play up the metal and keep the diamonds, rubies, emeralds or sapphires to a minimum. once again, it all depends on taste and budget.
A ruby & diamond drop earrings, pendant, and ring
Browse through our collection of diamond and gemstone earrings, then get in touch with us, and let us help you find the earrings that suit you best!