A Guide For Fancy Color Diamond Pendants
No matter how big or small, every piece of jewelry that you wear shows a personal facet of yourself to the world. It is an extension of yourself, your mood, your personality. This is also true in the case of pendants.
Diamonds pendants, defined as "hanging ornaments," come in a variety of settings and styles, each with their own characteristics. They are always in fashion, can be dressed up or dressed down, and can be as conservative or as risqué as you desire.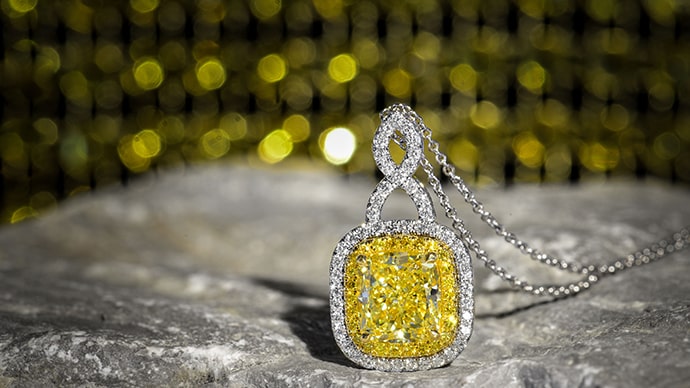 Fancy Intense Yellow Cushion Diamond Drop Pendant (3.99Ct TW)
Solitaire Pendant
A single diamond, usually round, heart-shaped, cushion-cut, or Asscher-cut, but may be in any other shape as well, mounted in a pendant setting on its own and without any other diamonds. It is often set in a four-prong setting with a bail or as a slider that can be transferred from chain to chain (usually necklace) or set to be integrated directly to one chain.
This is the perfect, modest, classical finish to a simple gold chain and adds a focus that highlights the beauty of the pendant, and complements the wearer's outfit and the wearer herself.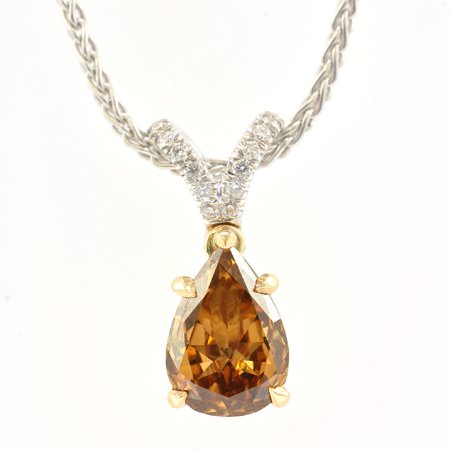 1.00 Ct Fancy Orangy Brown Pear Shaped Solitaire Diamond Pendant
Halo Pendant
If a solitaire pendant is a little too demure, a halo pendant is a little more ostentatious without being 'over the top.' A halo pendant is similar to a solitaire pendant but surrounded with smaller pavé or micropavé diamonds framing the center stone. This halo of smaller diamonds enhances the brilliance of the center stone and gives an overall more flamboyant effect to the pendant.
Halo pendants are undoubtedly more dazzling than non-halo pendants but they are not too extravagant and give you the opportunity to play with different color diamonds for an extraordinary effect.
Pink Diamond Filigree Pendant (0.34Ct TW)
Multi-Stone Halo Pendant
This style is exactly the same as a Halo Pendant, only it contains more than one center stone. Especially with color diamonds, since they are so rare and difficult to find, the stones used may not be the same sizes. However, the designers will only set them together as long as there is a flow and the look is still exquisite.
Fancy Deep Blue Green & Fancy Intense Pink Diamond Pendant (0.75Ct TW)
Single Stone Drop Pendant
A Single Stone Drop Pendant is suspended from a clasp or additional length of chain from the chain around the neck. This type of pendant can either be a single stone that dangles or an actual Pear-shape, from the word 'Tear Drop,' hence the 'Drop Pendant.' The center stone may or may not be surrounded with a Halo of smaller Pave set diamonds.
Single stone drop pendants draw attention to the area where the pendant falls, allowing you to be more adventurous in the use of jewelry.
Natural Unheated Oval Sapphire & Diamond Pendant (3.77Ct TW)
Multiple Stone Drop Pendant
More conspicuous than their single stone sisters, a Multiple Stone Drop Pendant is one from which more than one centre stone dangles. Consequently, they are usually longer than single stone pendants, but that all depends on the size of the stones and the length of the chain. The center stones may be the same size, color, or shape but may vary according to the design. Similarly, the center stone may or may not be surrounded with a Pave setting.
Another reason it might be called a Drop Pendant is a result of one of the diamonds used being a Pear-shaped diamond.
Multiple stone drop pendants add even more spice than their single stone sisters. And given that they are usually of longer length and contain more stones, they provide a broader canvas for self-expression.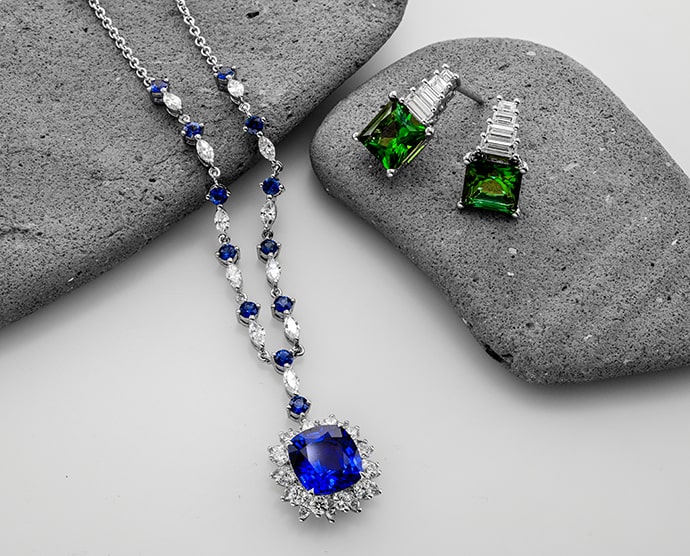 Vivid Blue Cushion Sapphire & Diamond Necklace (6.29Ct TW)
Pave Pendant
Pavé refers to a setting of diamonds that are set very closely together so that no metal is visible. Usually the stones are quite small or smaller diamonds are alternated with larger diamonds to achieve this effect.
Pavé can be used with any style of pendant or cut of diamond to maximize the "wow" factor. The ability to play with the color of the diamonds and the shape of the motif created makes for some fascinating possibilities with pave pendants.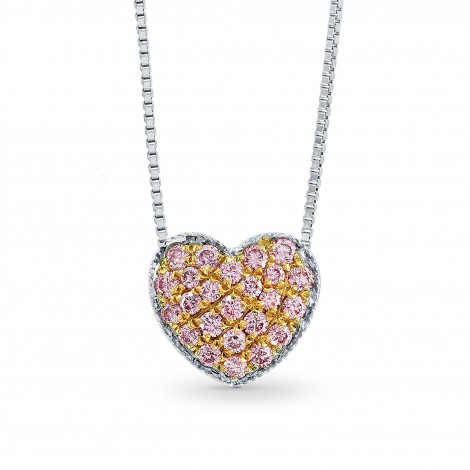 A fancy intense yellow and a fancy pink pave heart-shaped diamond pendant

Pendants come in a variety of shapes, sizes, and styles. There is sure to be a pendant out there with your name written all over it. Browse through our collection of diamond and gemstone pendants.