Pink Diamond Pendants
Pink diamonds are some of the world's most hidden treasures. Though more and more individuals are discovering their beauty, their rarity has made them true gems. Therefore, when acquired, pink diamonds should be worn in the most blatant ways possible. When displayed in a colored diamond pendant, the brilliance is shown out in the open for all eyes to see. There are several styles that are most suitable for pink diamond pendants and here is a closer look the most popular options.
Pink Diamond as the Main Stone
In general, pink diamonds are harder to come by than other colors showcased. Therefore in of and itself they are considered a collector's item. Furthermore, the beauty of a pink diamond can be shown quite well when placed in the right setting and surrounded by appropriate stones of contrasting colors. If the main stone is pink, whether it is pure pink, a combination like an orange pink, or a very subtle brownish pink diamond, it will look lovely framed with colorless melees diamonds. This look can be achieved with any shape stone from pear to round to heart-shaped. The halo look can be done with one, two, or even more rows of colorless diamonds.
0.81-Carat Light Pink Heart Shaped Diamond Pendant
Pink Diamond as the Secondary Stone
As mentioned before, it is difficult to attain a significantly sized pink diamond, especially one with an intense pink color. Therefore, those looking for a substantial diamonds pendant might be interested in combining stones, making the pink diamond just one of several color diamonds on the pendant. The pink stone can be placed in the middle in order to be emphasized or can be placed in order of size. There are many options. Even when more than one stone is used in a pendant, each stone can be surrounded with colorless diamonds. The various color diamonds can be of the same shape or different shapes. Every customer has his or her own specific taste and requirements.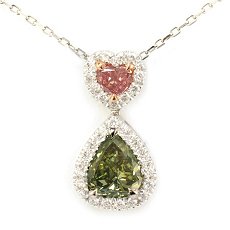 Light Pink Heart Shaped Diamond and Green Pear Shaped Diamond Pendant
Pink Diamond Borders
Pink diamonds do not only look terrific as the main stone in a diamond pendant, but can also stand out quite well when used to surround a different color diamond. Smaller pink diamonds that are set in a pavé design arround the center stone can result in a true masterpiece. Pink diamonds can also be placed throughout the gold chain, though they look best closest to the pendant.
1.62-Carat Fancy Deep Brownish Greenish Yellow Triangle Pendant with Fancy Pink Round Brilliants
Pink Diamond Pave Pendants
One can get the most creative when working with pave diamonds, for this allows the diamonds to be placed in any shape. For example, in the image below they are placed upon a heart pendant, where they completely cover just half of the motif design while the other half is set with colorless stones. Although, depending on the shade of the stone, Rose Gold is likely to be used in order to maximize the color, it is not necessarily essential to display the contrasting affect. There can also be gold pendants shaped into circles, animals and other shapes with pink diamonds dotted around the pendant.
0.37-Carat Fancy Pink Diamond and White Diamond Pave Heart Pendant
Pink diamonds are rare, unique, and exquisite. They make fabulous alternatives to colorless diamonds and pearls, and can fit a wide range of budgets. Since there are so many sizes, color combinations, intensity levels, and pendant styles, there is truly something for everyone.