How To Buy The Perfect Diamond Bangles
Diamonds can fit right into daily life. How? Those chunky, trendy bracelets that do not require clasps and complicated opening and closing mechanisms.
Diamond bangles offer all of the sophistication and prestige of any other diamond piece, but with the edge and personality of the stackable- or standalone bangle.
Here are a few tips regarding diamond bangles and how to successfully welcome them into your wardrobe and jewelry collection.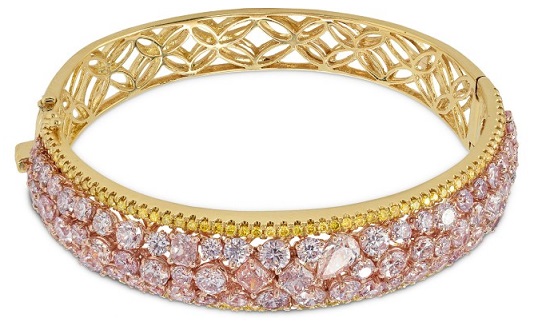 Couture Pink and Canary Yellow Diamond Bangle
The Right Fit
First and foremost you must be sure that you have chosen the right size bangle. Though bangles give off a "one-size-fits-all," they still must fit your correctly.
Bangles are intended to dangle from your wrist in a flirtatious manner. Whether you are wearing several bangles together that clang together as you move your wrist, or have chosen a solid bangle that slides up and down you arm, its sensual appeal is still present.
In order to get the fit just right, make sure the bangle is not too big, as it can slide off of your hand. Similarly, you don't want the bracelet to be too tight. In addition to keeping your wrist comfy and healthy a bangle is not a bangle if it does not have wiggle room.
When shopping for bangles, you can try them on to see if they fit well, or, you can shop based on your bangle size. This is done through the diameter of the bangle, which should correlate with the measurements of your wrist and hand.
Bangle Dimensions
In order to know what dimensions the ideal bangle should have you must measure the inside of the bangle. Regardless of the width of the bangle, if the inside diameter is the same, it should fit.
The smallest bangle size is 2-2. This is a bangle that has an interior diameter that measures 2.125 inches. The sizes go on to 2-4, 2-6, 2-8, 2-10, 2-12, 2-14, and 3. 2-4 bangles are 2.25 inches in diameter, and they go on to 2.375, 2.5, 2.625, 2.75, 2.875, to 3 according to the size order.
Measuring Your Hand
In order to know what your bangle size is you are going to want to measure your wrist and your hand. This is done by taking a cloth tape measure and encircling your wrist with it. The latter can be accomplished by measuring your fingers, with your thumb folded underneath. That is your hand measurement. The two measurements combined will tell you what bangle size you are.
Incorporating Your Bangles
Once you know your size and the way in which you want your bangle to fit your wrist you must decide how to incorporate your new diamond bangle into your wardrobe. The thing is, since bangles are so neutral, fitting them in is a no-brainer. You can casually pair a diamond bangle with work clothing: a blouse, pair of slacks or pencil skirt, and pumps. You can also take your diamond bangle with you as you head out into the sun, dressed in a lightweight sundress. Lastly, your bangle will feel right at home when matched up with a little black dress, evening gown, or flirty short skirt.
There you have it: the world of diamond bangles in a nutshell. Sure, there are plenty of diamond bangle types including those sporting color diamonds and those with rare metals such as rose gold.
Go with the one that suits you the most but don't forget about your wardrobe and the general places you will be visiting with your new bangle. As adaptable as diamond bangles may be it is always wise to select a particular design based on your intentions.