Frequently Asked Questions About Diamond Rings
Table of Contents:
1. How many diamonds must a ring have to be considered a diamond ring?
2. Do men wear diamond rings?
3. What's the most important ting to consider when buying a diamond ring?
4. What are different types of diamond rings?
5. How do I know the diamonds are real?
6. How do I know my ring size?
Many people tend to think of engagement rings as soon as they hear the term "diamond rings". Though many engagement rings include diamonds, not all do, and not all diamond rings are intended to be engagement rings. The diamond ring's role as "the engagement ring" only began several decades ago, whereas the concept of a diamond ring has existed for centuries. Diamond rings can serve as dress rings, wedding bands, as well as rings for men, cocktail rings, statement rings, and so much more. Here are some helpful frequently asked questions about diamond rings that will assist you in setting things straight once and for all.
1. How many diamonds must a ring have to be considered a diamond ring?
There is no minimum amount of diamonds needed in order to be considered a diamond ring. As soon as a diamond ring includes one diamond, as small or as large as it may be, it is, by all means, a diamond ring.
2. Do men wear diamond rings?
Diamond rings are generally looked at as being a woman's thing, but men absolutely wear diamond rings. A great example of men's diamond rings are diamond-studded wedding bands. Many couples get matching sets, with the male version being slightly wider and less glitzy than the woman's. Some men even wear engagement rings these days. Those too, more often than not, include a diamond or gemstone. However, even if one is not yet in the wedding scene, it is more than okay to sport a shimmering diamond ring. After all, why should the phenomenal natural stone be reserved for women only?
Sapphire and Diamond Round Brilliant Men's Ring (1.29Ct TW)
3. What's the most important thing to consider when buying a diamond ring?
Besides for making sure that you are getting the style and look that you want for the right price, it is crucial to pay attention to the type of diamonds used in the ring. You will want to look into the diamond education, which includes information about the stone, or 4Cs, which of course refer to the cut, color, carat weight, and clarity of the diamonds.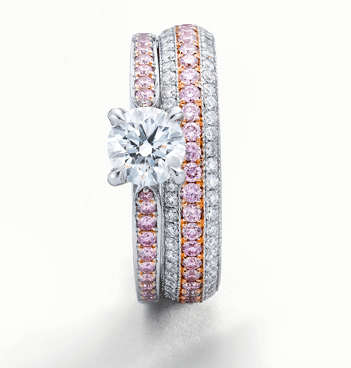 There are many different ways to style the ring, but the important thing is to be happy with the design, look, and feel!
If it is a white diamond, the better the cut, the more the diamond will sparkle If it is a color diamond, naturally, you want to focus on the color!
4. What are different types of diamond rings?
Diamond rings can be worn for different reasons and purposes such as engagement rings, wedding rings, and promise rings. Putting the motives aside, different types of diamond rings can include solitaire rings consisting of one main stone, multiple stone rings, which often consist of three main stones, halo rings, vintage rings, cocktail rings, and statement rings. The one thing all of these rings have in common is the fact that they all display diamonds; everything else can vary greatly. Halo rings showcase a center stone surrounded by a halo of smaller diamonds, hence the name halo. The stones can all be colorless, the same color diamond, or they can be a combination of contrasting colors. Vintage rings embrace the style from back in the day, which at one point became passé, and is now one of the trendiest types of rings out there. Cocktail rings are generally very "loud" and can include other gemstones, usually set in a bulkier setting. Statement rings, like cocktail rings, are out there to shock. This "shock factor" can be done by the size or color of the stone or stones, but also through the ring's motif. Some rings are designed to look like a flower while others resemble dragons, butterflies, and other images.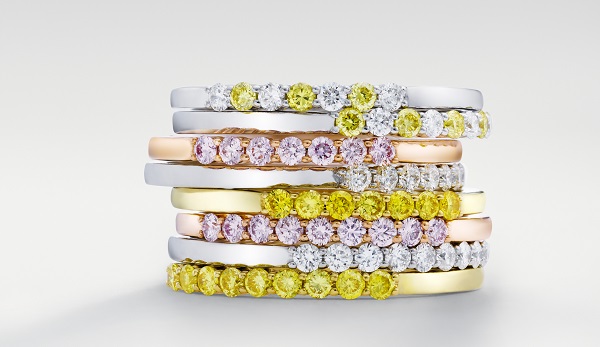 Stackable Diamond Rings
5. How do I know the diamonds are real?
When shopping for a diamond ring, or any piece of jewelry for that matter, always make sure you go to a reputable shop that is highly recommended. Educate yourself as much as possible before shopping around, and if possible, take someone with you who is more knowledgeable in the field of diamonds and jewels. Before purchasing, have the stone assessed to ensure that it is genuine and request the proper certification. Certified stones come with a certification detailing the stone's specifications.
6. How do I know my ring size?
Although a ring can be resized it is best to know your ring size before purchasing a diamond ring. This can be done by going into any jewelry store and asking to have your finger sized. There are also many online tools that can help you get your ring size but it is really best to do it in person.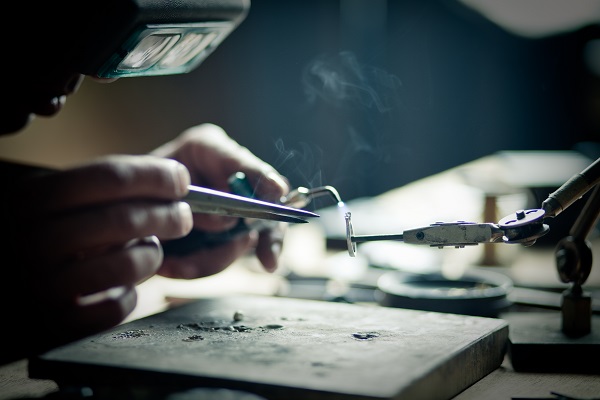 It is extremely important to know that one can never have too many questions regarding diamond rings. Buying a diamond ring is a big deal and you need to make sure that you know what you are getting. Take your time, do the research, and have fun scanning the endless stunning diamond rings that are out there.